Mulberry Place - LOCATION
Taguig City is situated south of Manila and is well-known for the highly fortified The Fort, the home of the Bonifacio Global City (BGC), currently one of the country's most important residential, commercial, and industrial center. Here, the DMCI Mulberry Place Taguig City is settled less than 1.5-km to the southeast of BGC, a relatively short distance where major roads traverse this vibrant condo community. A mere kilometer further to the north of BGC is the financial district of Makati, another place where most of the Mulberry Place residents are working. This dynamic condo in Taguig City is DMCI Homes' Asian-Tropical inspired condominium development catering for young professional urbanites, starting and growing families, and expats who want to live in a city like Taguig, but relatively away from the smog and bug of the city center. Beat the heat of the metropolis, as this stylish community has diverse design enhancing wide open spaces, clever insulation that keep you cool without the aid of mechanical means while you are in your unit, and the perfect utilization of shade and insulation.

Accessibility of significant establishments
Mulberry Place has quick access to significant establishments through the NLEX, EDSA or C-5 roads. You could choose a route that is nearer to your destination. But for your basic and daily necessities, a convenience store is located within the compound. However, if you want to go shopping, SM Aura, Vista Mall and many other malls are only a drive away. For schools, there are various international and local schools within the 5 km to 11 km radius of Mulberry. You won't miss your spiritual obligations too, because there are two churches, which are 5 to 8 minutes away from the condo. When you're sick, the Medical Center of Taguig is one ride away. You can call for an ambulance or take your patient to the nearby center. Aside from this, there are two more hospitals that you could run to; these are St. Lukes and Makati Medical Center, which are renowned hospitals in the Philippines. In addition, the proximity of the NA International Airport (NAIA) is an advantage for you, if you're traveling back and forth to foreign countries. You could drive to the airport for only 20 to 30 minutes.
When you live in the Mulberry Place, you will be far away enough from the hustle and bustle of the city that you can easily rest and relax, but if you ever need to access facilities that you can only get from the metropolis, you are but minutes away from them. The Mulberry Place is located in Taguig, which is close to the Bonifacio Global City, a place where you can find dozens of different business establishments, schools, hospitals and health centers, and several commercial complexes. Surely, you prioritize your family's health above all else, and you will be happy to know that the Mulberry Place is also close to some of the best hospitals in the country. For instance, just a quick drive from the condominium complex and into the BGC, you will already find the massive St. Luke's Medical Center, one of the biggest, and most well-equipped hospitals in the country. If you drive a bit further, and go into the neighboring city of Makati, you will find the Makati Medical Center. If you are just in need of basic medical procedures, you can find dozens of specialty clinics within a one-kilometer radius area, so you will definitely find what you are looking for every time.
If you are looking for schools, the Mulberry will also get you covered. There are plenty of different exclusive private schools in that particular area of the metropolis, like the International School and the British School for young to high school-aged kids. If you are looking for places that are a bit more affordable, you can find plenty of other private and public schools that are just minutes away from the Mulberry. If you have college-aged kids, you can enroll them in the nearby Colegio de San Agustin or in Assumption College. The Mulberry Place, despite being located in an area that is full of trees, is actually a great home for shopaholics. It is mainly because there are plenty of malls nearby, so near in fact that you can practically see them from the balcony. Inside the BGC, you will find several shopping centers, like the famous Market! Market! Mall, the opulent SM Aura Premier where you can find designer name boutiques, and just a bit further down in McKinley Hill, you will find the Venice Plaza Mall. If you want even more choices, you can take a short drive into the Makati CBD where you will find even more malls and shopping centers.
Probably the best thing about living in the Mulberry Place, in my opinion, is that you have 24-hour access to public transportation. You can find jeepneys, taxis, buses, and tricycles plying through the nearby thoroughfares so you will always be within reach of them whenever you want to go places. In addition, the Mulberry Place is also just half an hour's drive away from the major airline terminals, so if you live a jetsetter's lifestyle, you would more than love making the Mulberry Place your home, when you are in the country at least.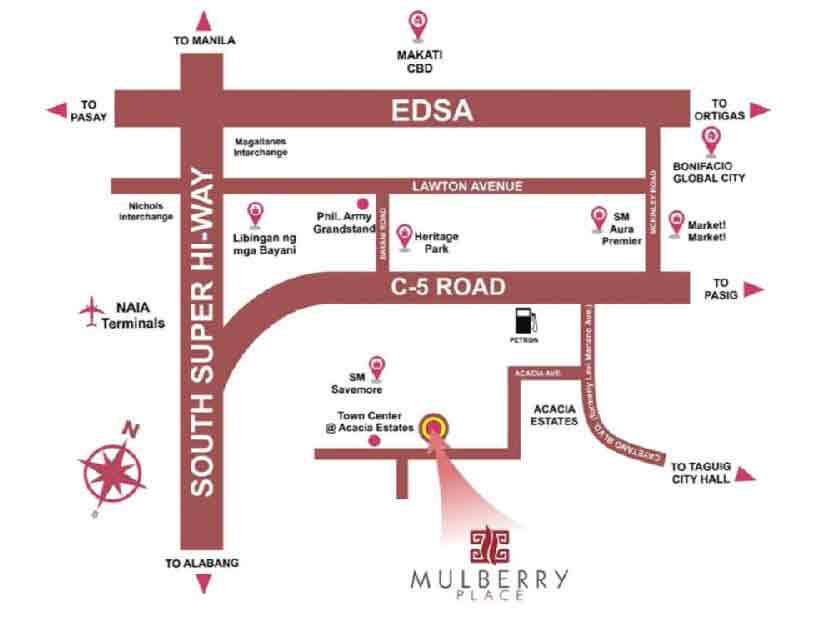 How to Get to Mulberry Place
Via C-5 (From Libis) Head south on Eulogio Rodriguez Jr. Ave. toward C5. Continue onto Carlos P. Garcia Ave. SM Aura, slight right toward Scorpion underpass. Take the 1st left onto Scorpion and turn right onto service road. Take the second left onto Cayetano Blvd (formerly Levi Mariano Ave). Turn right onto Acacia Estates – Acacia Ave. Drive. Mulberry Place will be located inside this residential community.
Via EDSA (From SLEX) From EDSA, turn right to McKinley Road. Turn right to Lawton Ave. then turn left onto Bayani Road (Heritage Park). Keep left to stay on Bayani Road then turn left to toward service road. Continue straight to service road and upon sighting of Petron-BCDA, turn right to Cayetano Blvd (formerly Levi Mariano Ave.) Turn right at Acacia Estates – Acacia Ave. Mulberry Place will be located inside this residential community.